Roentgen, Royal Louis XVI writing box
David Roentgen
(Herrnhaag 1743-1807 Wiesbaden)
The gilt-bronze mounts by François Rémond
(Paris 1747-1812, maître in 1774)
Neuwied, circa 1785-89
Mahogany and moiré mahogany, with gilt-bronze mounts,
Height: 32 cm, width: 56.5 cm, depth: 38 cm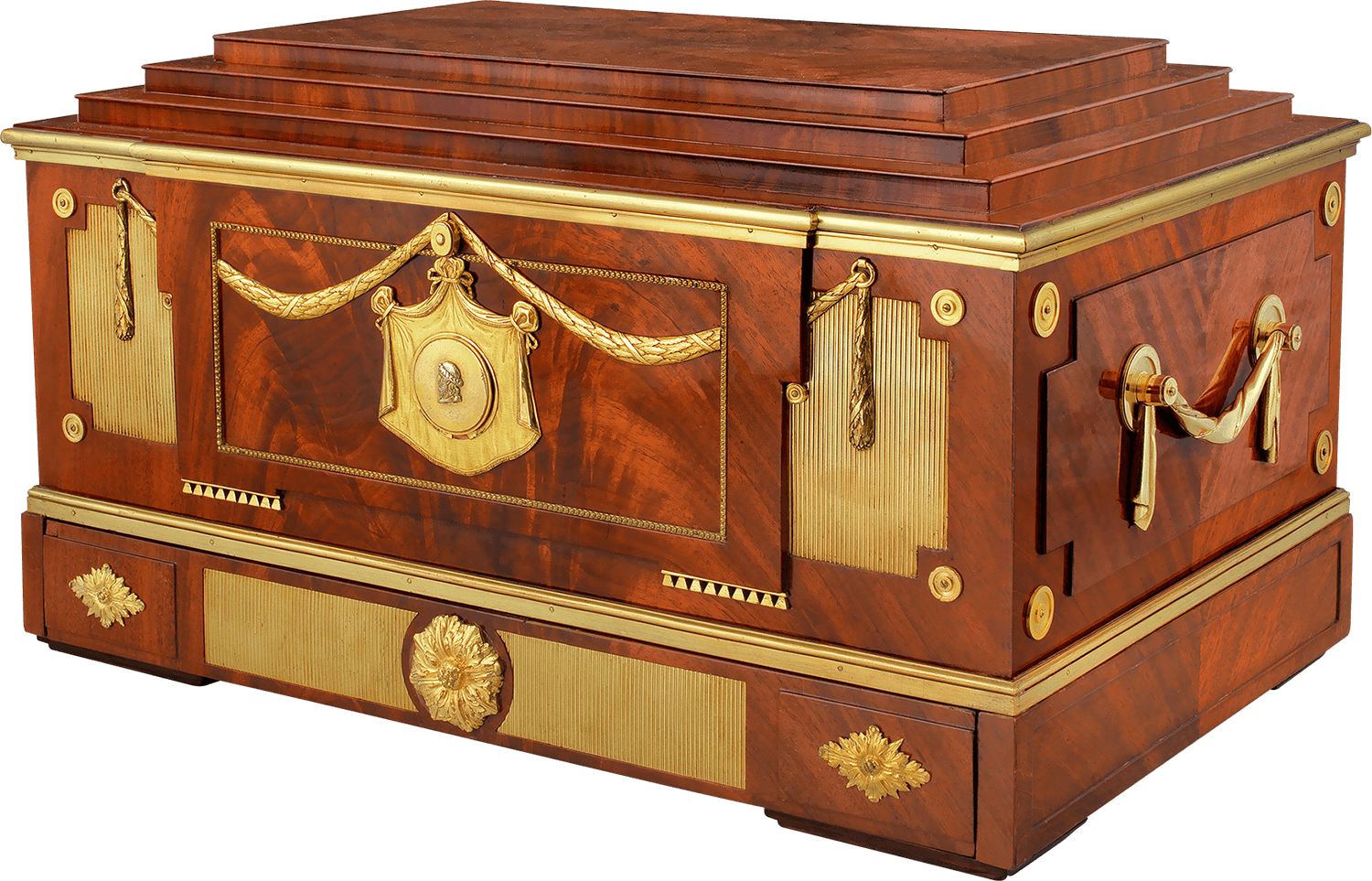 Details
Provenance:
Most probably acquired from Roentgen by Marie Joséphine, Comtesse de Provence (1753-1810), wife of the future King Louis XVIII (1755-1824) and given by her to Marguerite de Gourbillon (1737-1817), her lady-in-waiting and confidant.

Sotheby's, Monaco, 30 April 1976, lot 76.

Christie's, Monaco, 17 June 2000, lot 310.
Exhibited:
Roentgen, Thonet und die Moderne, Roentgen-Museum, Neuwied, 2011. cat. Nr. 24, p. 266.

Extravagant Inventions - The Princely Furniture of the Roentgens, Metropolitan Museum of Arts in New York 2012, p. 153 cat. Nr. 41
References:
W. Koeppe, ed. Extravagant Inventions, The Princely Furniture of the Roentgens, New York, 2012, p.234, app. 3.1

Stiegel, Präzision und Hingabe: Möbelkunst von Abraham und David Roentgen, Berlin, 2007, p. 112, ill. 15a.

Willscheid & W. Thillmann, Möbel Design. Roentgen, Thonet und die Moderne, Roentgen Museum Neuwied, 2011, p. 266, Nr. 24.
This majestic writing box is an excellent example of David Roentgen's work of the late 1780s, when he was designing furniture in the elegant architectural style of Louis XVI. It is further more of great importance because of its provenance.
At first glance, the impressive dimensions are evidence of a royal provenance: of the few cassettes from Roentgen's workshop with comparably majestic dimensions, one is in the Hermitage and another in the Louvre. The royal provenance is further confirmed by the description of such magnificent cassettes in the Versailles inventories of the Comtesse de Provence, wife of the future French King Louis XVIII, and Marie Adélaïde de Bourbon, daughter of Louis XV of France. The production for the court in Paris - possibly even a production in Paris - is also confirmed by the publication of the art historian Christian Baulez, who investigated Roentgen's collaboration with François Rémond, one of the most important Parisian bronziers of the period (see L'Estampille et L'Objets d'Art, September 1996, p. 106). Especially Baulez's finds of Rémond's deliveries of gilded bronzes to Roentgen in September 1780 are of importance, since the description of the bronzes in Rémond's invoices makes them identifiable as the fittings required for this cassette.
Rich in heraldic and allegorical symbolism and filled with complex technical refinements, this cassette can be recognized as a commission from the royal court and was also honoured as such at the large exhibition dedicated to Abraham and David Roentgen at the Metropolitan Museum in New York at the beginning of 2012.
The royal French provenance
A series of boxes of varying complexity and design are listed in the inventories and records as the property of the royal family and the court of Versailles.
Extensive research in this area was undertaken by Christian Baulez, who discovered such a cassette in an inventory of the French Revolution and published it in his article "David Roentgen et François Rémond: Une collaboration majeure dans l'histoire du mobilier européen" in L'estampille/L'objet d'art, no. 305 (September 1996) p. 106:
Un coffret en forme de nécessaire, en bois d'acajou massif, orné de moulures, filets, rosaces, mains et plaques; le tout de cuivre doré d'or moulu, le dessus formant trois gradins; renfermant des compartiments et beaucoup de secrets; cassé et mutilé; de 20 pouces de longs, sur 13 de larges et 13 de hauteur, dont la clef manque. Prisé 150 livres
This box was confiscated from Madame de Gourbillons, court lady and close friend of Madame la Comtesse de Provence, the former of whom had received many gifts.
The documented collaboration between the Parisian bronzier François Rémond and the Neuwied Ébéniste David Roentgen leads Baulez to conclude that Roentgen could not have made the cassette in Neuwied, but in France. On 30 September 1780, Rémond delivered 240 Livres to the cabinetmaker Roentgen: "For the modelling, casting, chiselling, mounting and 'matt-gilding' of 24 medallions showing antique heads with laurel wreaths". In the following months, numerous other handles and fittings in the form of draperies and rosettes in various sizes were supplied to Roentgen from the same bronzer.
Description and functions
The large writing box rests on a plinth with drawer and features a triple stepped lid. The casket is richly decorated with gilt-bronze fittings: side handles in the form of hanging drapes, round and oval rosettes, mille raie panels, hanging beads, serrated friezes, pearl borders and profiled edges.
The central locking mechanism on the front is covered with a bronze fitting of Plato's head on a drapery. By pressing the button, the concealed keyhole is revealed. A turn of the key unlocks the cover upwards. There is a plate in the lid concealing a document compartment. Inside the box are two compartments closed by roller blinds on the right and left, which by turning the key further pop up. These are fitted with small drawers that can be pulled out from the front. By pushing a brass button in the upper edge of the rear wall, the secret drawer in the base unlocks and springs forward. Pulling this drawer out further releases the bottom inside the cassette with a spring mechanism, thus opening another secret compartment.
Similar examples of writing boxes by David Roentgen:
Hermitage Museum, St Petersburg
(see H. Huth, Roentgen Furniture, New York, 1974, Abb. 196).
Provenance: Collection S. E. Jewdoemova
The medaillon on the front shows the French King Louis XV.
Musée du Louvre, Paris
(see H. Huth, Roentgen Furniture, New York, 1974, Abb. 195)
Provenance: Baron B. von Schlichting
Another writing box from the collection of Lord Clifton was sold at auction at Parke-Bernet Galleries, New York, on 25 March 1949, lot 195. Today, this box is part of a private collection in the USA.