Ewer of Jürgen Count Mellin
Silver, parcel-gilt
probably Hamburg, ca. 1690-1700
Height: 47 cm, weight: 2,350 g
(Uppsala / Finland 1633-1713 Stettin)
General governour of Pomerania, Bremen and Verden
Chancellor of the University of Greifswald,
Swedish field marshall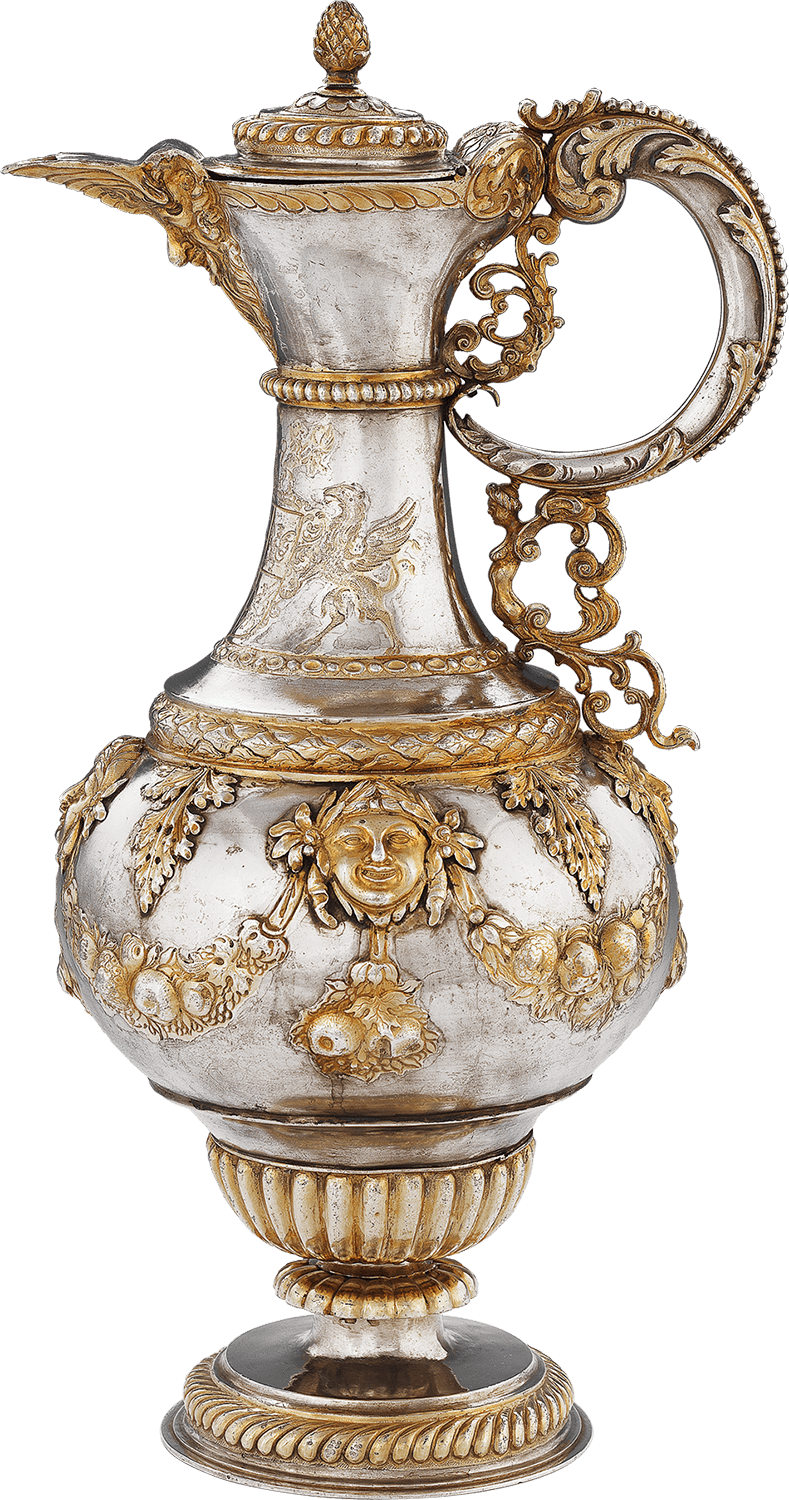 Details
Provenance:
Freiherr Karl von Rothschild (1820-1886), Frankfurt
Jürgen Count von Mellin descended from a noble family which originally resided in Mecklenburg and entered Swedish service in the 16th century acquiring estates in Estonia and Finland. His father Bernd Mellin (1608-1690) was captain in Kexholm and later governor in Ingermanland.
In 1649, Mellin began his military career as a musketeer in a German regiment that his father had recruited for Sweden. He served in various regiments in Finland and the Baltic States. In 1659 he was Adjutant General of King Charles X Gustav. In 1675 he became commander of the Wrangel dragoon regiment in Pomerania as colonel. He took part in the battle of Fehrbellin. He then became the fortress commander in Anklam and subsequently the commander of Stettin Fortress.
In 1681 he became commander-in-chief of all Swedish troops in Pomerania. The same year he exchanged his family estate Wahnerow in Eastern Pomerania for Damitzow in Western Pomerania, where he from then on had his country estate. Through the successful management of his Estonian, Finnish and Pomeranian estates he was able to acquire a considerable fortune. In Western Pomerania he was able to extend his property by the estates Neuendorf, Boldevitz, Mönkvitz and Ramitz.
In 1686 he was promoted to major general of the infantry, in 1688 he became vice governor of Swedish Pomerania. In 1690 he served as commander of the Swedish Imperial Contingent, which the Swedish King Charles XI, as Prince of the German Empire and as a result of the Augsburg Alliance during the War of the Palatinate Succession, appointed to the Imperial Army and sent to the Rhine.
In 1691 he was promoted to the rank of Swedish Baron, in 1693 he was made Lieutenant General and appointed Governor of Wismar. On 26 August 1696, Jürgen Mellin was promoted to the Swedish rank of Count and became Governor General of Bremen and Verden. Appointed to the Swedish Council, he was promoted to Field Marshal on 28 August. On 4 July 1698 he was appointed General Governor of Pomerania and Chancellor of Greifswald University by the Swedish King Charles XII.
As governor he promoted the trade of the Western Pomeranian cities, a trade which experienced an economic prosperity until the occupation of Western Pomerania during the Great Nordic War. In his capacity as chancellor of the university, he appointed Johann Friedrich Mayer as professor of theology and pro-chancellor of Greifswald and passed a new study regulation designed by Mayer in 1702.
In 1711 Jürgen Graf von Mellin resigned from his offices due to health reasons. After his death, the cities of Stralsund and Stettin donated 6,000 talers to finance a copper coffin and an elaborate funeral service.
In 1655 Jürgen Mellin married his first wife Anna Magdalena von Löwen (1636-1690) in Reval (nowadays Tallinn). From the marriage descended two sons, who started a military career in Swedish services. From the first son Bernd Johann descends the family branch of the Count, based in Pomerania and Estonia. In 1691, Count Mellin entered his second marriage in Szczecin to Eva-Sophia (1644-1707), widow of Franz von Horn, councillor and governor of Szczecin and daughter of Enno Freiherr von Innhausen und Knyphausen.
The coat of arms on the ornamental jug - formerly in the Rothschild possession - represents the Mellin coat of arms, however not the Pomeranian but the Livonian branch (Reichsgrafenstand 1696). The Pomeranian coat of arms (Freiherrenstand 1691) contains some of the components of the present one, but less and in a completely different arrangement. The owner had been a higher-ranking member of the noble Livonian branch.
Several comparable large baroque jugs from the goldsmith Friedrich Kettwyck in Hamburg (1643-1670) have been preserved, such as a wine jug from the estate of Duke Georg Wilhelm zu Braunschweig-Lüneburg, which is now kept in the Kestner Museum in Hanover.

Literature:
Werner Buchholz: Mellin, Jürgen Graf. In: Neue Deutsche Biographie (NDB). Band 17, Berlin 1994, S. 23
Jürgen Mellin. In: Nordisk familjebok. Band 18. 2. Aufl. Stockholm 1904–1926, S. 61 f
Johann Gottfried Ludwig Kosegarten: Geschichte der Universität Greifswald mit urkundlichen Beilagen. Bd. 2, C.A. Koch, 1856, S. 146
Dirk Alvermann (Hrsg): Die Universität Greifswald in der Bildungslandschaft des Ostseeraums, Berlin-Hamburg-Münster, 2006
Der Schatz des Freiherrn Karl von Rothschild, Meisterwerke alter Goldschmiedekunst aus dem 14.-18. Jhd., hg. v. F. Luthmer, Frankfurt 1889, Abb. Tafel XI