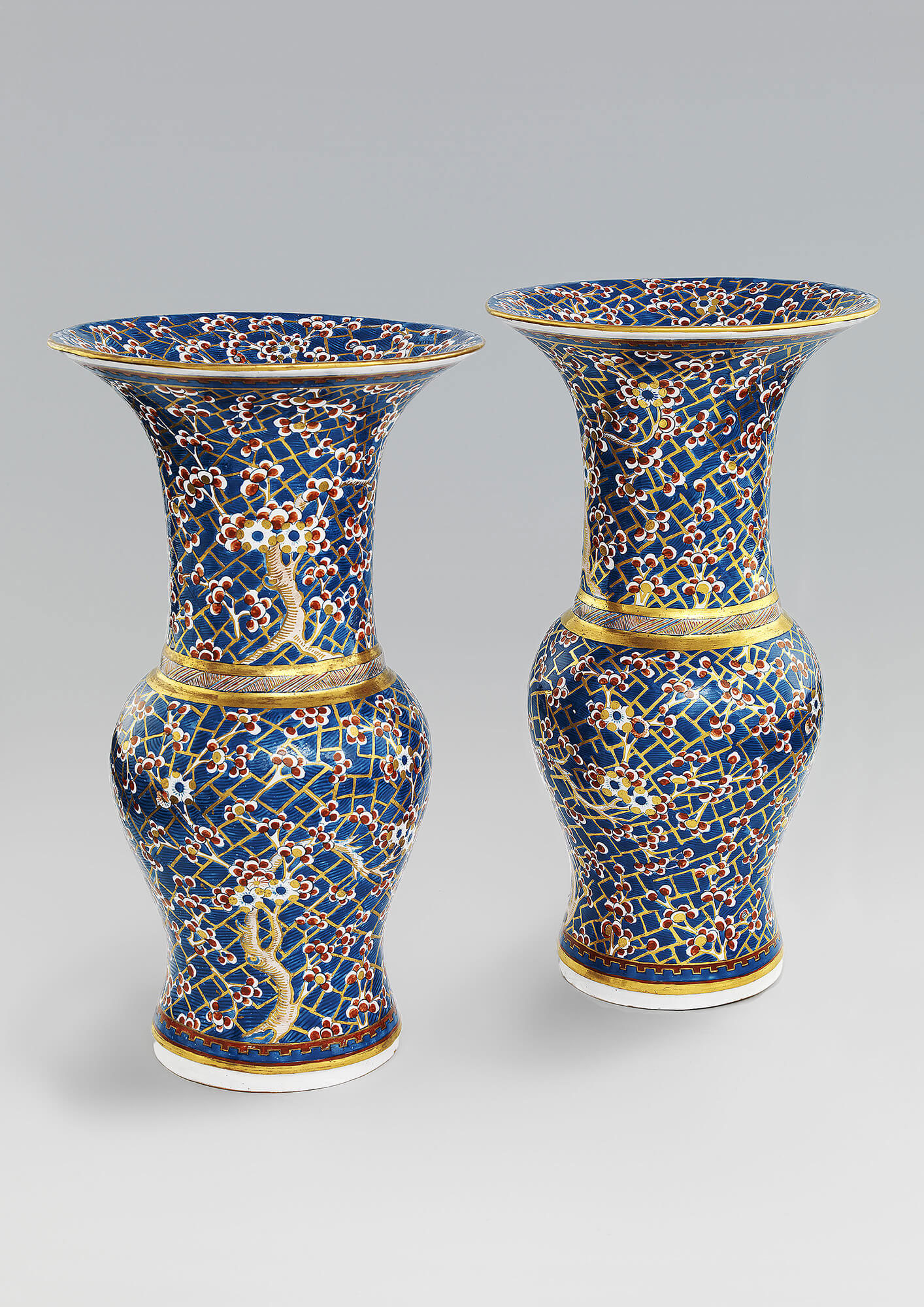 Details
After Chinese Kangxi period originals (1662-1722), of baluster form with broad flared necks, painted and gilt in the Imari palette with prunus trees with extending flowering branches on a blue and gilt cracked-ice-ground, a diagonal-dash-pattern border at the shoulders, key-pattern borders at the rims and footrims.
In an attempt to emulate other European Royal porcelain concerns, a manufactory was established in the grounds of the Belvedere Palace in Warsaw by King Stanislas II. Augustus, the son of August the Strong, in 1770. The production of faience was more successfully achieved than that of porcelain but was relatively short-lived as the factory closed in 1780.
The wares were mostly based on the Chinese and Japanese porcelain of the early 18th century in the Royal Collections. A similar pair of vases of the same form, but with differing decoration are in the Royal Collection in Warsaw (see Cat. Semper Polonia, L'art en Pologne des Lumières au romantisme (1764-1849), musée de beaux-arts de Dijon, 2004, cat. o 62.)
References:
Halina Chojanacka, Warsaw 18th Century Faience, National Museum of Warsaw, cat. no. 7, B. Honey, European Ceramic Art, London, p. 659
M. Bauer, Europäische Fayencen, cat. Museum für Kunsthandwerk, Frankfurt 1977, p. 237, no. 483
B. Neumann-Wieczorek, Geschichte der Königlichen Fayencemanufaktur im Belvedere in Warschau und die Manufaktur von Bernadi und Wolff in Berlin, p. 49, Ill. 7, in: Keramos 1973, vol. no. 60, pp. 41-52.